This spicy mango jalapeño margarita is the best combination of fruity, tropical mango, tequila, lime and a spicy jalapeño kick. Made with mango nectar, tequila, lime and a dash of simple syrup infused with jalapeño flavor. This margarita is easy to throw together in a few minutes and is the perfect complement to any Mexican dish.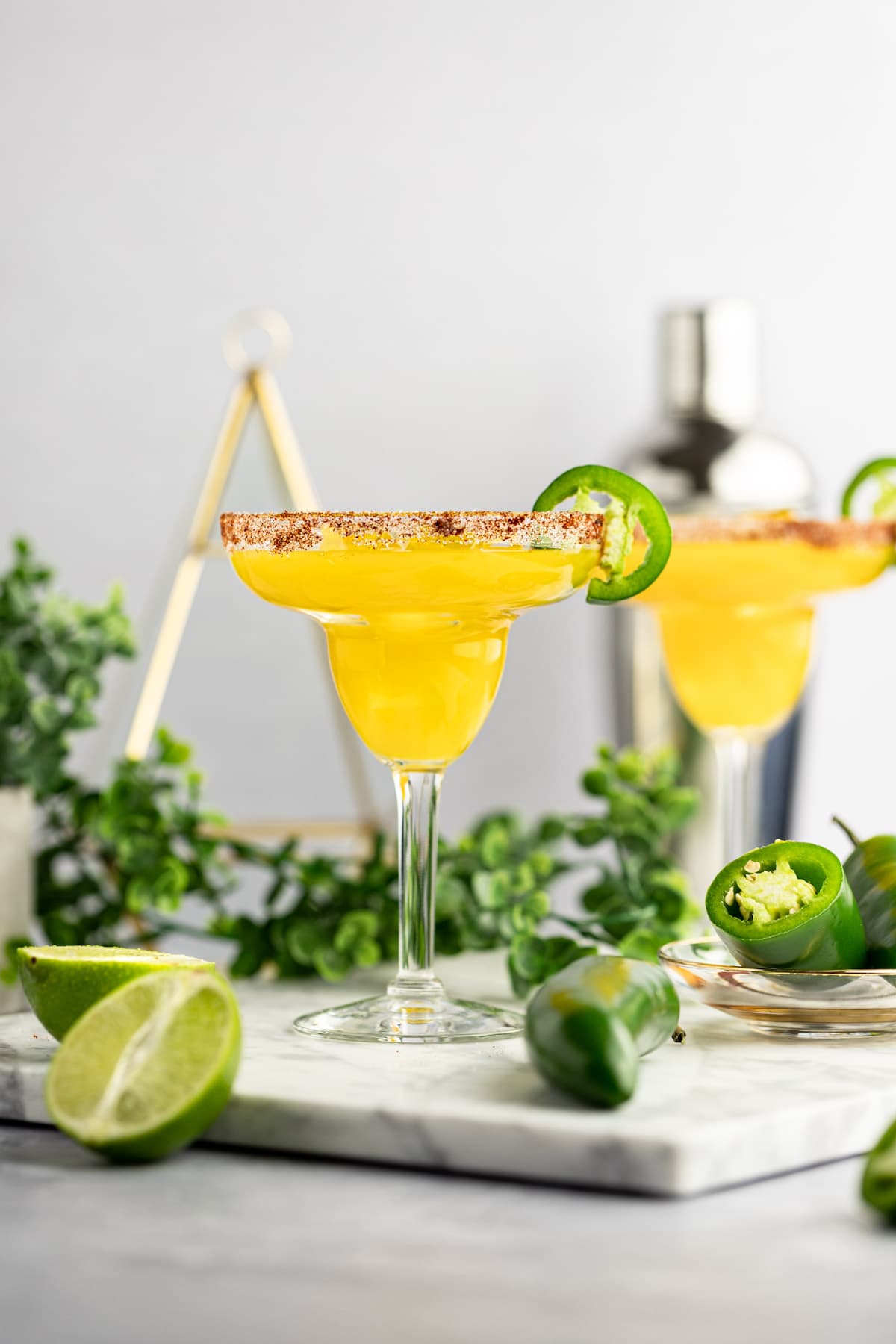 Creative, flavored margaritas are delicious and easy to make. For other margarita recipes, try this guava margarita or this pumpkin spice margarita.
This spicy mango jalapeno margarita is perfect for Cinco de Mayo! See this list for the best Cinco de Mayo margaritas.
Why this is the best mango jalapeño margarita:
It has a secret ingredient. This is a seriously spicy drink! It has just the right amount of jalapeño bite. The secret ingredient is this jalapeño simple syrup. Other margaritas use muddled jalapeños, but this doesn't add quite as much spice, is more work, and can leave pieces of jalapeño in your drink. This syrup means you have a nice, smooth drink and it's so easy to adjust the spice level for each person— just add more or less syrup.
It's perfect for Mexican food. This margarita is the perfect balance between sweet and spicy, with just enough fruitiness from the mango to balance out the jalapeño. This makes it the best drink to go with any spicy Mexican food.
It's easy to make. Margaritas are great for a crowd, but fruit flavored ones can sometimes mean extra time and work to prepare. But not this one! Just prepare a large batch of jalapeño simple syrup in advance (takes 20 minutes) and you can make a batch of drinks for a large group in under 5 minutes.
Ingredients:
Mango Nectar: Use a pure mango nectar. Avoid mango juices, especially those that are mixed with other flavors. Juices have a thinner consistency and tend to have a more artificial taste compared to nectar. If you want to use fresh mangoes, peel and blend them in a blender until smooth. Then pass the mixture through a fine mesh strainer to get a fresh mango puree.
Jalapeño Simple Syrup: This syrup is just as easy to make as regular simple syrup, but has a strong jalapeno kick to it. It is much spicier than you think it will be, and therefore you only need a small amount for this drink. This ingredient is essential for this margarita.
Tequila: If you have a favorite type of tequila, use that, but you don't need super high end tequila for a margarita.
Lime Juice: Every margarita needs a little dash of lime. Use freshly squeezed lime juice! It makes a huge difference in quality.
Tajin Seasoning: This seasoning is a blend of spices including cayenne, paprika, red chilli flakes and salt that is perfect for lining the edge of the margarita glasses. If you can't find tajin seasoning, or want something less spicy, you can line glass edges with salt, or a combination of salt and chili powder.
How to make the jalapeno simple syrup:
For full, detailed instructions, see the jalapeño simple syrup recipe.
To make the jalapeño simple syrup, heat ½ cup of diced jalapeño peppers (with the seeds), 2 tablespoon granulated sugar and ¼ cup water on a saucepan over medium to high heat. Stir occasionally, and bring the mixture to a gentle simmer. The sugar should dissolve, but continue to gently simmer the syrup for 10 minutes to let the flavors infuse. Remove from the heat and strain out the jalapeños. Let the syrup cool before using it in your cocktail.
Variations:
Mango Habanero Margarita: For an extra spicy margarita, you can replace the jalapeños with habanero peppers, which are much hotter. Adjust the amount of habaneros you use to your preference for spiciness.
Mango Pineapple Jalapeño Margarita: Pineapple is a great fruit addition to this drink. Replace half of the mango nectar with pineapple nectar to make this variation.
Mango Jalapeño Mocktail: This margarita makes a great margarita for those who want a non alcoholic version. To make it a mocktail, remove the tequila. Instead, add two extra ounces of mango nectar.
Expert Tips:
For extra spice, use habaneros. If this drink isn't hot enough for you, replace some or all of the jalapeños with habaneros for a more intense flavor.
Chill the glasses. This margarita is extra refreshing when served cold. Chill prepared glasses in the fridge for a couple hours before serving to keep your drink cool longer.
Line the rim with syrup instead of lime. Sometimes the salt or tajin seasoning doesn't stick well to the edge of the margarita glass. Spreading a small amount of simple syrup around the edge of the glass before dipping the edge in the spice flavoring makes sure it sticks really well to the edge of the glass. You can use the jalapeño syrup or just regular simple syrup.
Other cocktail recipes you will love:
Print
📖 Recipe
Mango Jalapeño Margarita
---
Description
This spicy mango jalapeno margarita is the best combination of fruity, tropical mango, tequila, lime and a little spicy jalapeno kick. It's easy to make and is the perfect complement to any Mexican dish.
---
Tajin seasoning (optional) 

1 cup

mango nectar

2 oz

lime juice, freshly squeezed 

1 ½ oz

tequila 
Handful of ice
---
Instructions
Prepare the glasses: Run a slice of lime around the edges of the margarita glasses, then dip them in the tajin seasoning. 
Make the margarita: Add the mango nectar, jalapeño simple syrup, lime juice, tequila and ice to a cocktail shaker. Shake for 10 seconds, until frosted on the outside. Strain into a prepared glass with fresh ice. Enjoy!
Notes
Variations: For instructions on how to make a mango habanero margarita, mango pineapple margarita or a mango jalapeño mocktail, see the blog post.
Adjust the spice: To increase or decrease the spiciness of this margarita, adjust the amount of jalapeño simple syrup you add. Be careful, this syrup is spicy and it doesn't take a lot to up the spice level!
Line the glass edges with simple syrup. If you find that the seasoning is not sticking well with the lime juice, line the edges with simple syrup instead. The seasoning will stick very well to the syrup. You can use jalapeño simple syrup or just regular simple syrup depending on if you want it to taste extra spicy or not.
Prep Time:

5 minutes

Cook Time:

0 minutes

Category:

Cocktails

Method:

Shaken

Cuisine:

Mexican
Nutrition
Serving Size:

1 margarita

Calories:

134

Sugar:

19g

Sodium:

9mg

Fat:

0g

Saturated Fat:

0g

Unsaturated Fat:

0g

Trans Fat:

0g

Carbohydrates:

22.6g

Fiber:

0.7g

Protein:

0.4g

Cholesterol:

0mg
Keywords: spicy cocktails, spicy drinks, jalapeño drinks, margaritas, Mexican cocktails