This easy blueberry simple syrup recipe is made in under 15 minutes using only three ingredients. It's just like regular simple syrup but with a blueberry twist. Perfect for adding flavoring to any kind of drink such as cocktails, lemonade or tea. Make a batch and create your own blueberry drinks for any occasion!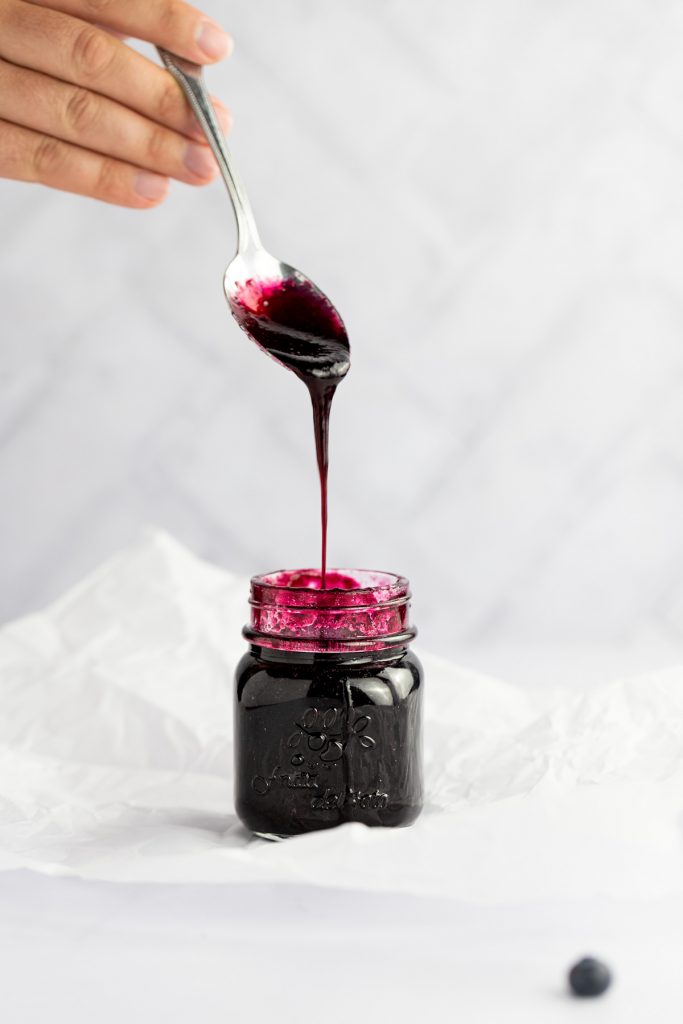 Video of How to Make Blueberry Simple Syrup
Blueberry Simple Syrup vs. Blueberry Syrup
Although these two names sound similar, they are not the same type of syrup. Simple syrup is a liquid sugar mixture mainly used in cocktails or other beverages. Because it is used to sweeten drinks, it has a much higher sugar content compared to blueberry syrup. Regular blueberry syrup uses less sugar and sometimes adds in cornstarch as a thickening agent to thicken up the syrup.
If you were to drizzle this simple syrup on pancakes or waffles, it would probably be a bit too sweet for your liking. On the other hand, if you used regular blueberry syrup in your cocktails, they may not come out sweet enough.
The type of syrup you need to make will depend on how you are planning to use the syrup. If you are looking for a basic blueberry syrup for drizzling on foods like pancakes and waffles, you can use this recipe but will have to adjust the amount of sugar.
How to adjust this recipe to make blueberry syrup:
If you are looking for regular blueberry syrup, follow all the same instructions, but decrease the amount of granulated sugar by half. Instead of using ½ cup of sugar, use ¼ cup. Optionally, if you want a chunkier syrup, don't strain out the blueberry chunks after making the syrup.
Ways to use blueberry simple syrup:
Cocktails: This syrup is essential for any blueberry cocktails, such as in this Blueberry Gin Cocktail. Experiment creating your own cocktails, adding 1 to 2 tablespoon per drink. Or take a cocktail recipe that calls for plain simple syrup and substitute this blueberry one in a 1:1 ratio.
Lemonade: Fruit flavoured lemonades are the most refreshing drinks in summer. Add 1-2 tablespoon of syrup per glass of lemonade to create a blueberry lemonade.
Soda: Add a spoonful to sparkling water or Sprite to make a refreshing blueberry soft drink.
Tea: You can use this in either hot tea or iced tea recipes. Stir the syrup into the tea while the tea is hot, and drink immediately for hot tea, or chill in the fridge for iced tea. Adjust the amount of syrup to your taste.
Milk: Blueberry flavored milk is actually pretty tasty, and can be a fun drink for kids. Add in a tablespoon of syrup per glass of milk and mix until well combined.
Yogurt: The one exception to the using-simple-syrup-only-in-drinks rule is mixed into plain yogurt. Since plain yogurt doesn't have extra sugar added, you can add a bit of sugar and fruit flavor without overdoing it. If you like chunky fruit pieces in your yogurt, then skip the step of passing the syrup through a fine mesh strainer. If you do pass the syrup through a strainer, you can also save the chunks you strain out and just stir those into your yogurt.
Ways to use regular blueberry syrup:
Pancakes & Waffles: Pour onto blueberry pancakes or berry waffles and top with fresh fruits for a delicious breakfast.
Ice Cream: Drizzle over ice cream before serving. Or if you like making your own ice cream, you can even stir this in before freezing for a blueberry ice cream.
Cake: Lightly pour over breakfast cakes that don't have icing. This will go well with any cake that is made with fresh berries, or even a regular coffee cake.
Muffins: This syrup is great for drizzling on top of freshly baked muffins to add an extra blueberry burst of flavor!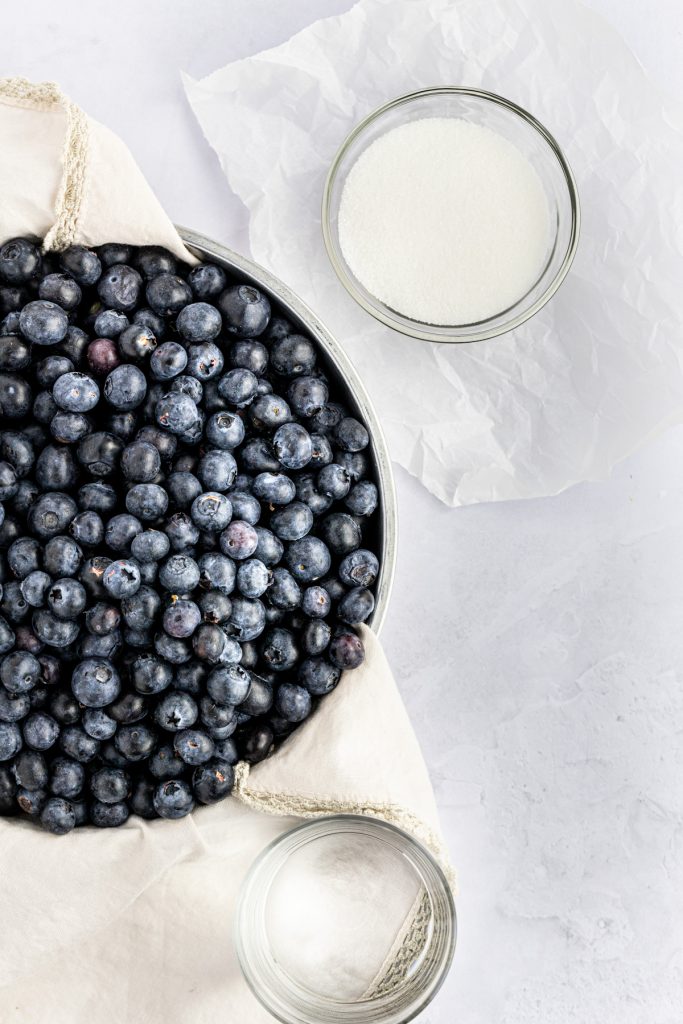 Ingredients:
Blueberries: If they are available, fresh blueberries are always the best option, but you can use frozen blueberries as well. See the tips & tricks section below for using frozen blueberries.
Sugar: This needs to be granulated sugar — the syrup won't have the same consistency or flavor when using brown sugar. Granulated sugar is the standard for simple syrup recipes.
Instructions:
Heat the syrup. On a saucepan over medium heat, bring the blueberries, water and sugar to a simmer. Stir occasionally as the syrup is heating up.
Mash the blueberries. The heat will cause the blueberries to start to break down on their own, but as the mixture is heating, use the back of a spoon or fork to gently mash up the blueberries that haven't burst yet. This will help disperse the blueberry flavor for a stronger, more potent blueberry simple syrup.
Let it simmer. Let the syrup simmer for 10 minutes, stirring occasionally to prevent it from burning. The sauce will begin to thicken up.
Drain & Cool. Remove the syrup from the heat and pass it through a fine mesh sieve. This will remove the chunks of blueberries so your syrup is smooth. The leftover blueberry chunks are great for mixing into greek yogurt for breakfast. Next, let the blueberry simple syrup completely cool to room temperature before using in cocktails.
Store in the fridge. When not using, seal the syrup in an airtight jar and keep it in the fridge for up to a few weeks.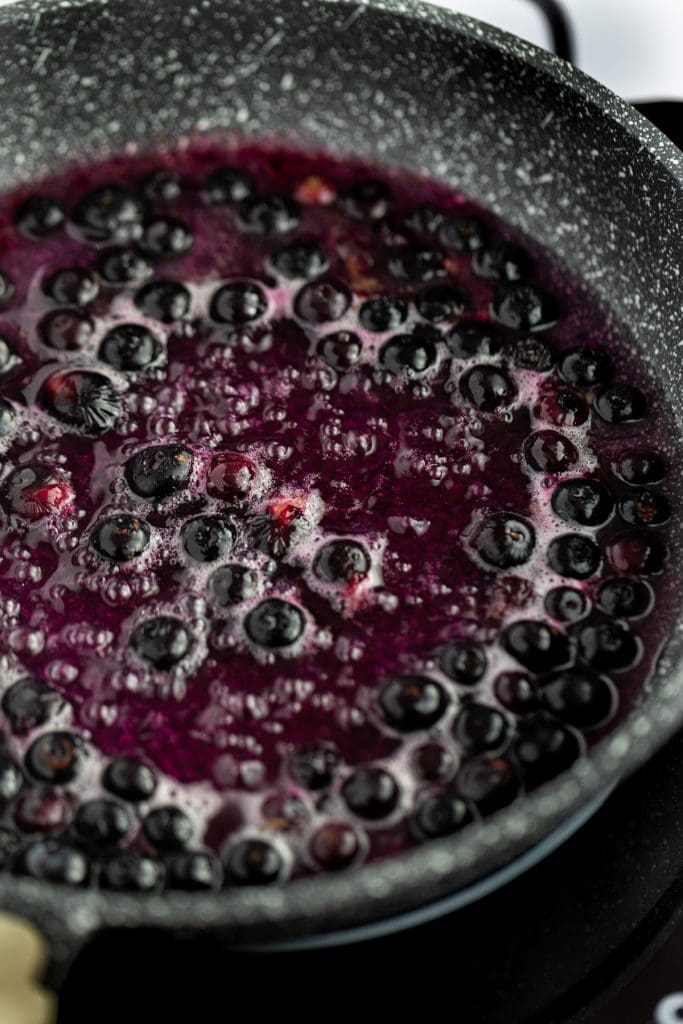 Tips & Tricks:
Thaw frozen blueberries. If you are using frozen blueberries instead of fresh ones, thaw them first and drain out all the excess liquid. Otherwise, the extra liquid will dilute the blueberry flavor and alter the consistency of the final simple syrup.
Freeze simple syrup in ice cubes trays. This is a great way to freeze simple syrup for longer storage. When ready to use, just pop out however many ice cubes you need, let them thaw and mix into your drinks. Ice cubes will last about 2-3 months in the freezer.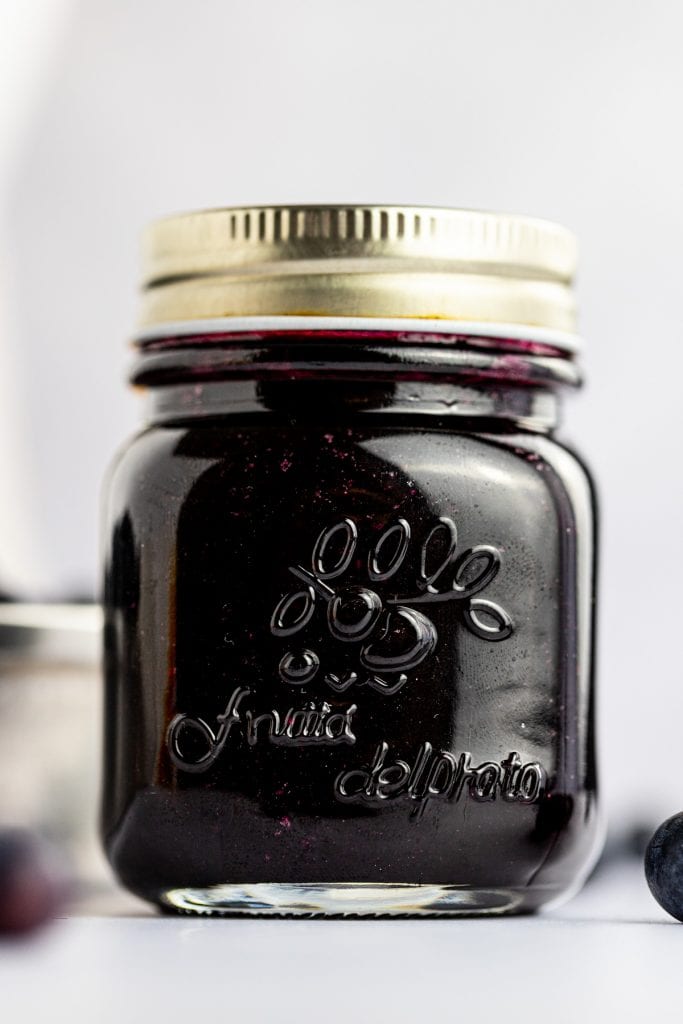 FAQ:
Why use blueberry simple syrup for cocktails?
Why not just blend or mash blueberries into a cocktail instead of going through the extra step to make this syrup? The answer is flavor and consistency. Mashing blueberries into a cocktail will add some blueberry flavor but it won't be as strong a taste compared to using this syrup instead. Also, you will end up with small blueberry pieces in your drink if you mash or blend blueberries.
What mixes well with blueberries?
There are so many flavors that work well with blueberries! Some great ones to try when making cocktails are: lemon, honey, blackberries, ginger, mango, orange, peaches and pears.
How do you make simple syrup blue?
Although blueberries are blue on the outside, the inside color is more a purple-pink color. This means your drink will take on a more dark purple-pink-blueish color depending on how much you add. If you are looking for a true bright blue color in your cocktail, try adding blue curacao.
Do you need to refrigerate simple syrup?
Yes, absolutely! It will go bad very quickly if left out at room temperature. The fridge is the best place to store any leftover syrup.
Why does simple syrup go bad?
While simple syrup can last a long time, it can still go bad. This is because the water (and blueberries in this case), are susceptible to mold. Always inspect your simple syrup before using it and discard it if you see any mold or if it smells off.
Print
📖 Recipe
Blueberry Simple Syrup
---
Author:

Total Time:

13 minutes

Yield:

¾ cup

syrup

1

x

Diet:

Vegan
Description
This blueberry simple syrup is perfect for adding flavoring to any kind of drink such as cocktails, lemonade or tea. See the notes for how to alter this recipe to make a blueberry syrup perfect for pancakes.
---
1 cup

blueberries

½ cup

granulated sugar

½ cup

water
---
Instructions
In a saucepan over medium heat, bring the blueberries, sugar and water to a simmer. Stir occasionally to prevent the mixture from burning.

As the blueberries begin to break down with the heat, gently mash any blueberries that haven't exploded to release the juices.

Continue to simmer the syrup for 10 minutes until it thickens up. The syrup will thicken even more as it cools down.

Remove the syrup from the heat and pass the mixture through a fine mesh sieve to remove the blueberry chunks.

Let the syrup cool to room temperature before using in cocktails or drinks. Store any leftovers in an airtight jar in the fridge for 1-2 weeks.
Notes
How to make blueberry syrup: Blueberry simple syrup and blueberry syrup are not the same thing. This recipe is for blueberry simple syrup which contains much more sugar and is intended to be used in drinks. To make a regular blueberry syrup for pouring on pancakes or waffles, decrease the amount of sugar from ½ cup to ¼ cup and follow the rest of the instructions as is.
Straining the blueberry chunks is optional. If you prefer a chunkier syrup, skip this step. The quantity of syrup yielded for this recipe will be slightly higher than stated.
Save the blueberry chunks. Save the strained blueberry chunks and mix them into plain yogurt for a tasty breakfast.
Thaw frozen blueberries. If using frozen blueberries rather than fresh ones, thaw the blueberries first and drain out most of the extra liquid to prevent diluting the syrup.
Storing the syrup: Store the syrup in an airtight container in the fridge for a few weeks or freeze for 2-3 months in an ice cube tray.
Prep Time:

1 minute

Cook Time:

12 minutes

Category:

Syrup

Method:

Cooked

Cuisine:

American
Nutrition
Serving Size:

1 tbsp

Calories:

39

Sugar:

9.6g

Sodium:

0mg

Fat:

0g

Saturated Fat:

0g

Unsaturated Fat:

0g

Trans Fat:

0g

Carbohydrates:

10g

Fiber:

0.3g

Protein:

0.1g

Cholesterol:

0mg
Keywords: simple syrup, syrup, blueberries, syrup for drinks