This blueberry gin cocktail is absolutely delicious. If you only have time for one blueberry cocktail to make this summer, this is THE drink you have to try. Made with blueberry simple syrup, lemon juice, gin and triple sec, then topped with club soda for some fizz.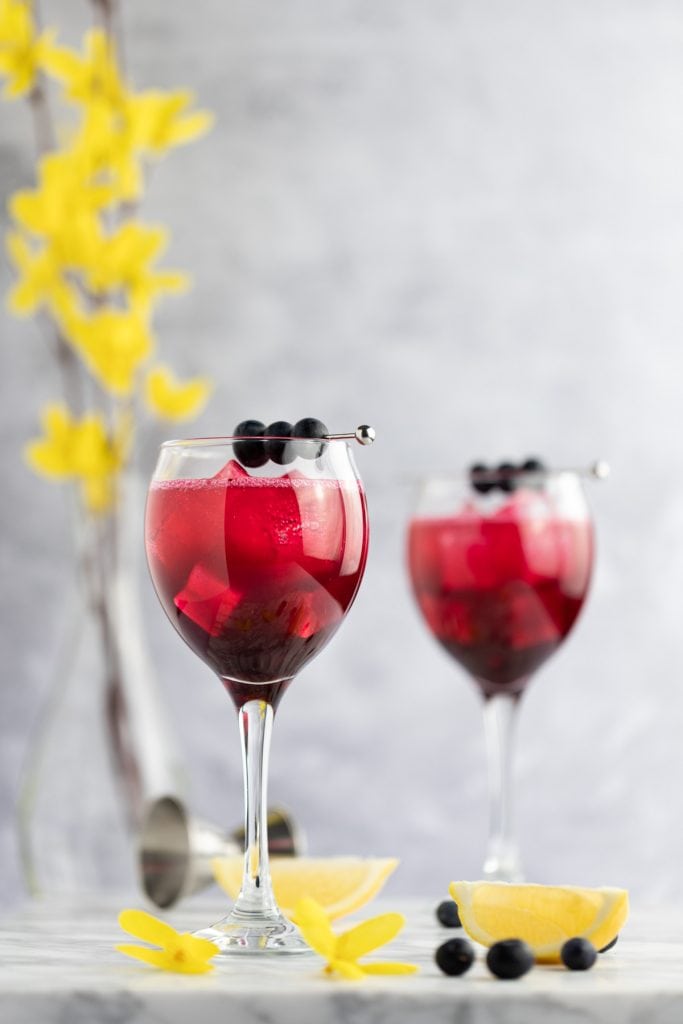 With the balance between the sour lemon and the sweet blueberry, this gin cocktail is a bit like a blueberry lemonade. The taste of gin is very subtle— it doesn't taste like there is any alcohol in this drink at all. That being said, if you love the taste of gin, you can always add an extra shot.
Gin cocktails are perfect for the summer and there are so many types to try, such as this mango gin cocktail, this pomegranate gin cocktail or the more classic rosemary gimlet.
How to make blueberry syrup for drinks:
Most blueberry flavored drinks use blueberry simple syrup which is a liquid sugar mixture that adds sweetness and blueberry flavor. It is essential for making this cocktail, but is very easy to make.
To make the blueberry simple syrup, heat 1 cup of fresh blueberries with ½ cup granulated sugar and ½ cup of water on a saucepan over medium heat. As the berries heat up, they will break down, mash them gently with a fork. Simmer for 5-10 minutes as the syrup thickens. Then remove it from the heat and strain through a fine mesh sieve. Let it cool to room temperature before using it in your cocktails.
For more details including how to store the syrup and other uses for leftover syrup, read the full blueberry simple syrup recipe.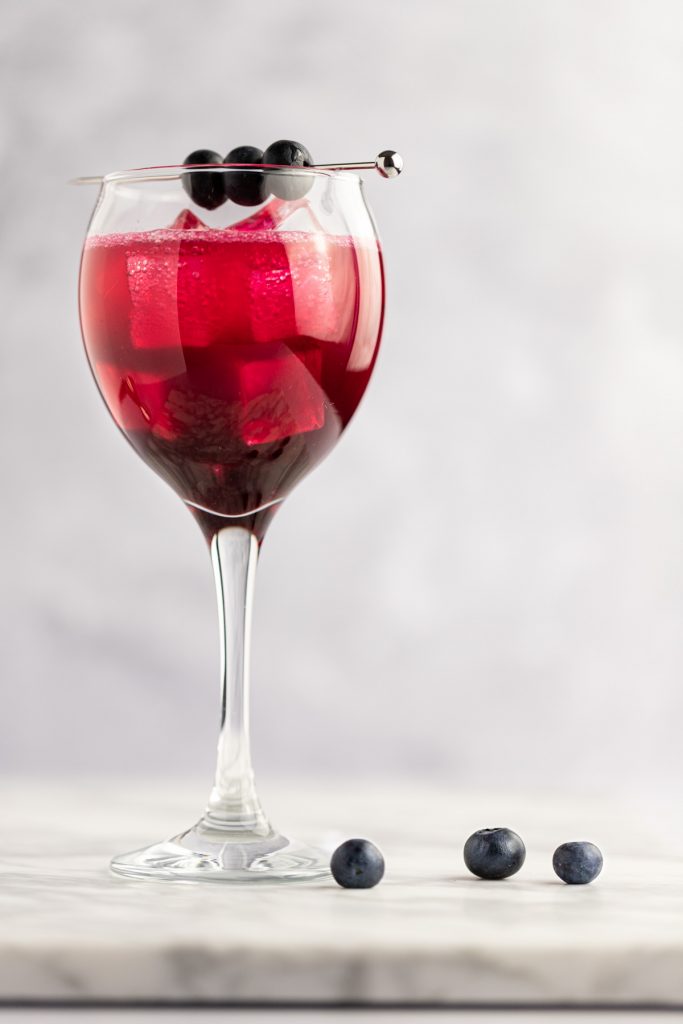 Ingredients:
Blueberry simple syrup: As mentioned above, you need this ingredient for this drink. Making your own is absolutely worth it. Even if you can't find fresh blueberries, using frozen blueberries is still better than using a store bought syrup. However, you can find ready made blueberry syrup on Amazon if you really don't have the time to make your own.
Gin: Any type of gin works with this drink. You don't taste the gin very much in since it is so fruity, so you probably don't need to use your most expensive gin for this type of cocktail.
Triple Sec: Orange flavored liqueur adds a nice touch. You can easily substitute this for Cointreau or Grand Marnier.
Lemon juice: Freshly squeezed lemon juice balances the blueberry so perfectly and almost makes this drink a bit like a blueberry lemonade.
Club Soda: The club soda adds a nice amount of fizz to the drink. You can also use sprite or 7up.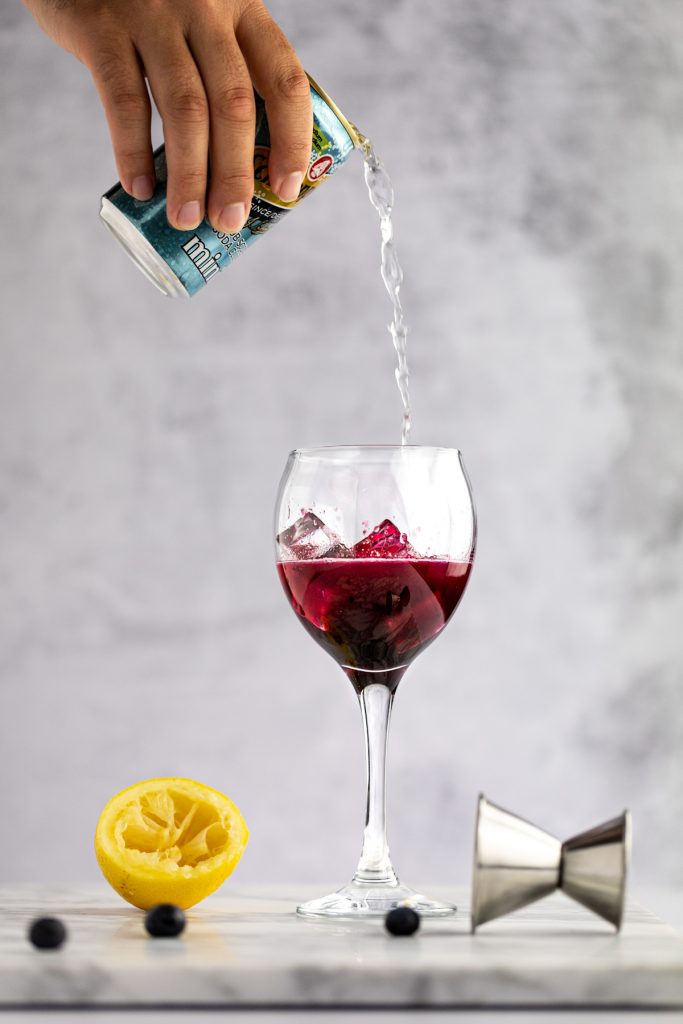 Tips and Tricks:
Add more fizz. The bright and powerful flavors work so well in this cocktail, but if you find this drink is too sweet, just add a bit of extra club soda for a subtler flavor.
Use blueberry gin. You definitely don't have to use blueberry gin for this drink, but if you have it already, you can use it in the place of regular gin for an extra blueberry kick.
Make it a double. It's hard to tell this is an alcoholic drink, which means you can double the amount of gin for a stronger tasting drink without overdoing it.
Make it a mocktail. This makes a great mocktail! For a non alcoholic version, don't add the gin or triple sec and instead double the amount of club soda.
Skip the shaker. If you don't have a cocktail shaker, don't let that stop you from making this drink! Instead, add all the ingredients except the club soda to a glass and stir vigorously until well combined. Then add in the ice and club soda.
Serve with fresh ice. Never use the same ice that you used in your cocktail shaker to serve in your glass. This ice is broken down and watery after shaking in the shaker and will dilute your drink faster without cooling it as much. Strain out the old shaken ice into a glass with fresh ice before serving.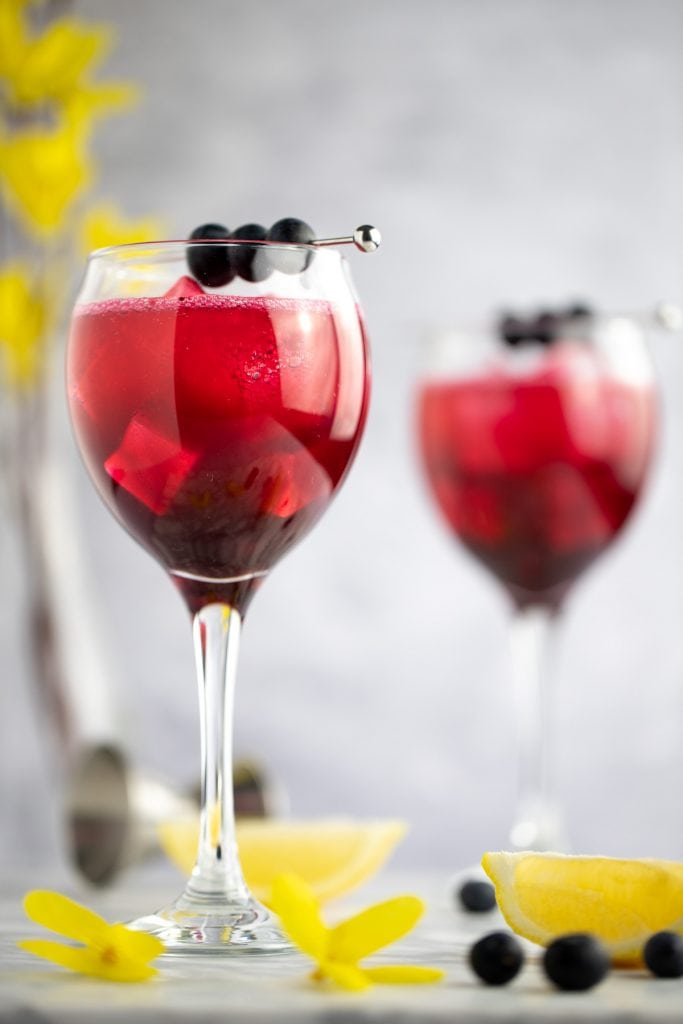 Other cocktails you may like:
Print
📖 Recipe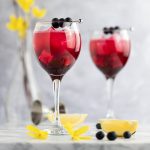 Blueberry Gin Cocktail
---
Description
This blueberry gin cocktail is absolutely delicious. If you only have time for one blueberry cocktail to make this summer, this is THE drink you have to try.
---
1 oz

gin

½ oz

triple sec

1 oz

lemon juice, freshly squeezed

3 oz

club soda
 Handful of ice
---
Instructions
Add the gin, triple sec, blueberry simple syrup and lemon juice to a cocktail shaker with a handful of ice. Shake well for 10- 15 seconds.

Strain and divide into serving glasses. Add fresh ice if you prefer. Top each glass with the club soda and enjoy!
Notes
Make it a double: Add an extra oz of gin for a stronger drink.
Make it a mocktail: Leave out the alcohol and double the amount of club soda.
1 oz = 2 tbsp. If you don't have a jigger or a way to measure ounces, just use a tbsp. 1 ounce is 2 tablespoons, ½ oz is 1 tablespoon.
Prep Time:

2 minutes

Cook Time:

0 minutes

Category:

Cocktails

Method:

Shaken

Cuisine:

American
Nutrition
Serving Size:

1 cocktail

Calories:

181

Sugar:

23.3g

Sodium:

8mg

Fat:

0g

Saturated Fat:

0g

Unsaturated Fat:

0g

Trans Fat:

0g

Carbohydrates:

25.3g

Fiber:

0.8g

Protein:

0.3g

Cholesterol:

0mg
Keywords: gin, gin cocktails, gin drinks, blueberry cocktails, blueberries, blueberry drinks