This tasty blueberry milk tea recipe is easy to make at home whenever you have a craving for a summery bubble tea. Made with blueberry simple syrup from real blueberries, so there's no artificial flavoring. Mixed with green tea and milk. Then served over ice with boba pearls.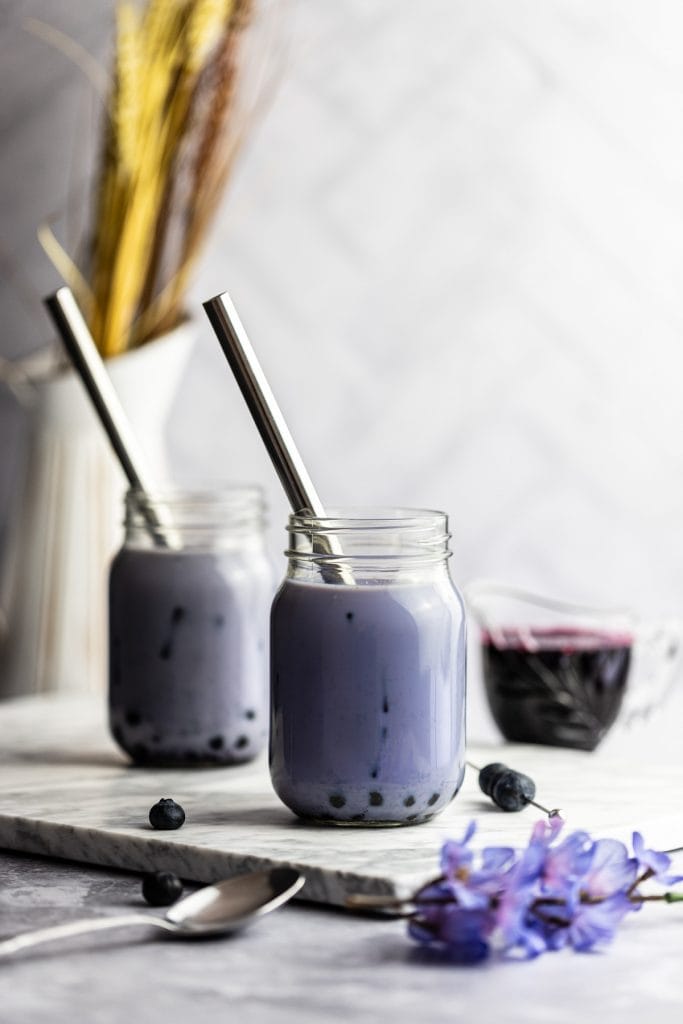 Why this is the best blueberry bubble tea recipe:
Blueberry simple syrup. Blueberry syrup is the best way to add sugar and flavor to any drink. Blueberries are simmered down to extract their flavor without adding in and pulp from the berry itself. If you were to blend blueberries into your milk tea instead of using a syrup, it would have a smoothie-like consistency, rather than the thinner consistency typical of milk tea. Plus, making your own blueberry syrup gives the most authentic, natural blueberry flavor.
Fully tested recipe. It's hard to find great bubble tea recipes online. Depending on the flavor, you may have to scavenge to find a recipe that actually looks like it's from a bubble tea store. Don't guess anymore! This boba tea recipe is exactly what you're looking for.
Easy to find ingredients. Flavored syrups and powders for bubble tea exist, but can be difficult to get ahold of depending on where you live. This recipe can be made using ingredients anyone can buy easily.
What does blueberry milk tea taste like?
This bubble tea has a rich, creamy blueberry flavor. There is no cream, and just the right amount of milk so the drink is not overly heavy. When served with ice and boba, it is a light, refreshing and very addictive summer drink.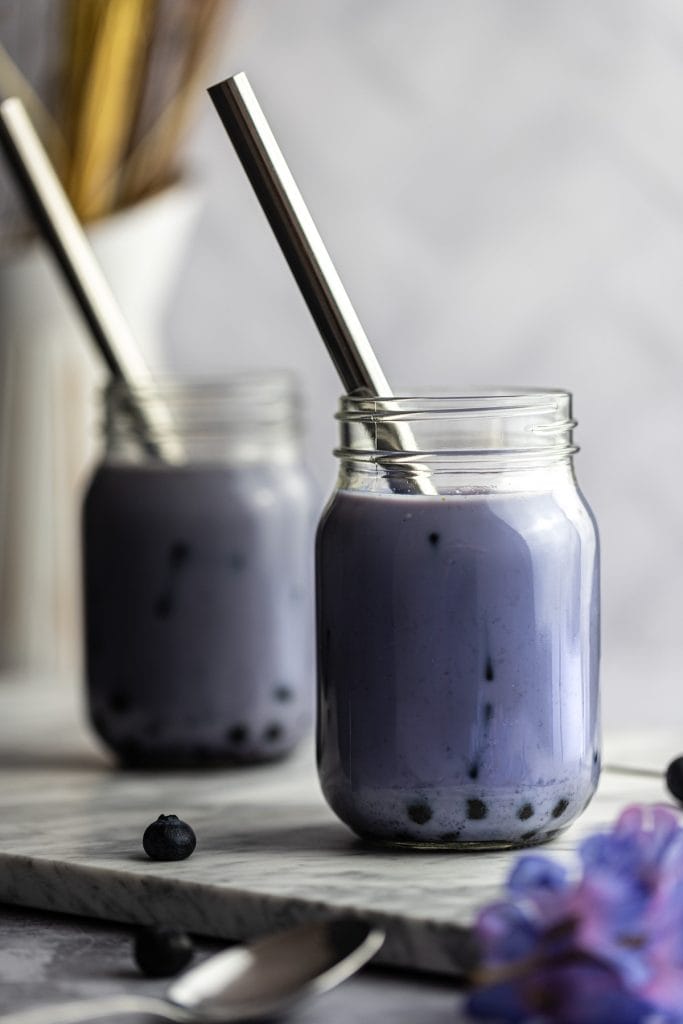 Ingredients:
Blueberry Simple Syrup: This is both the sweetener and flavoring for the drink. Making your own at home is easy, but if you prefer, you can use a store bought syrup. However the taste may be slightly more artificial.
Green Tea: Use your favorite type of green tea. It can be either a tea bag or loose leaf tea. You could also substitute this for black tea.
Milk: Just regular 2% milk. If you want to make this drink vegan or dairy free, use almond or oat milk instead.
Black Tapioca Pearls: Also called boba, these are the defining feature of bubble tea. You can easily find them at any Asian supermarket, or online on Amazon. If you have the option, buy the quick cooking boba to save time. You can also use popping boba or homemade fruit boba instead for extra flavor.
How to make the blueberry simple syrup:
On a saucepan, heat 1 cup of fresh blueberries, ½ cup granulated sugar, and ½ cup water over medium to high heat. Bring them to a simmer and continue to simmer for 10 minutes, breaking the blueberries open with a fork. Remove the pan from the heat and strain the syrup to remove the blueberry chunks. Let the syrup fully cook before using it in your milk tea.
For the full detailed instructions, read the blueberry simple syrup recipe.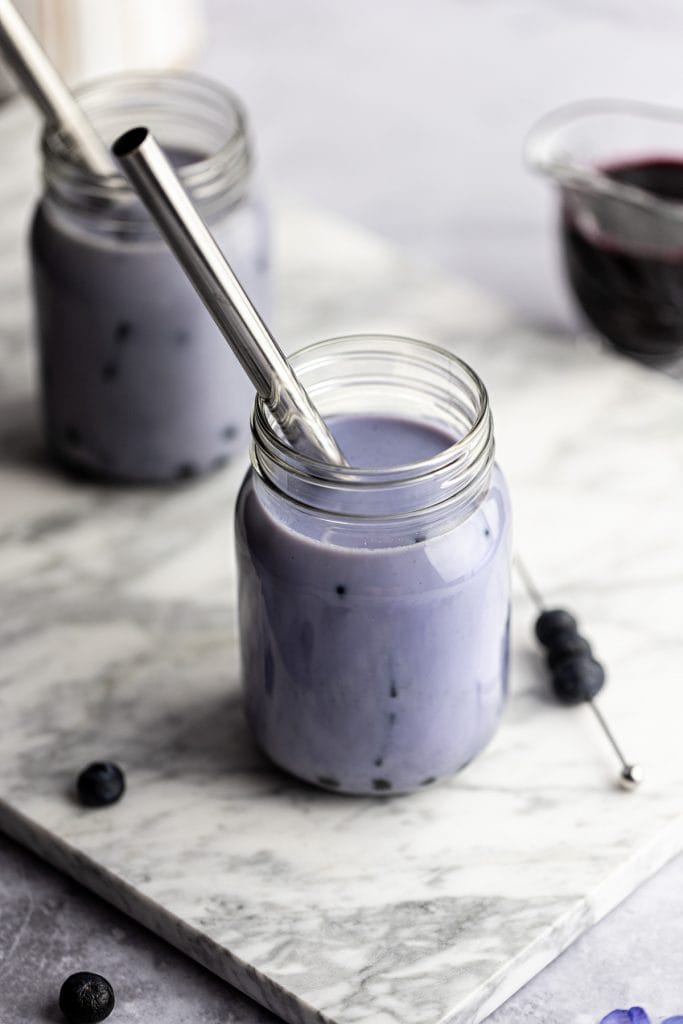 Can blueberries be used as boba?
Sure! If you want to be creative and change up your typical boba drink, replace some or all of the tapioca balls with fresh blueberries.
Expert Tips:
Make the boba fresh. Always make the boba right before you want to drink your milk tea. Cooked boba doesn't last long before it hardens up.
Stir the boba in the syrup right away. As soon as you have cooled the boba and run them under cold water, stir them into the blueberry simple syrup. This allows the boba to soak up some of the syrup, preventing them from clumping together.
Use boba straws. Regular straws aren't wide enough to suck up the boba, and drinking milk tea without a straw isn't satisfying. You can find bubble tea straws on Amazon, which are made specifically for drinking milk tea with  tapioca pearls.
Adjust the sweetness & creaminess. Everyone has their own preference for how they like their bubble tea. Customize this drink to your liking. For more sweetness, add extra blueberry simple syrup. For more creaminess, add more milk or cream. For less creaminess, add more green tea or decrease the amount of milk.
Other bubble tea recipes you will love:
Print
Blueberry Milk Tea
---
Author:

Total Time:

2 hours 20 minutes

Yield:

2

milk teas

1

x

Diet:

Vegetarian
Description
This tasty blueberry milk tea recipe is easy to make at home whenever you have a craving for a summery bubble tea.
---
1

green tea bag

5 tablespoon

+

1 tablespoon

blueberry simple syrup

¼ cup

quick cooking black tapioca pearls

1 cup

milk
Handful of ice
---
Instructions
Make the green tea: Pour 1 cup of boiling over the green tea bag. Let the tea steep for 5 to 10 minutes. Remove the tea bag and let the tea cool to room temperature. Then place it in the fridge to chill. 
Make the boba: On the stove, bring a small pot of water to a boil. Add in the boba. They should sink at first but float after 10-20 seconds. Slightly reduce the heat to maintain a gentle boil. Continue to boil for 5-10 minutes. Remove the pot from the heat, strain out the boba and run them under cold water for a minute. 
Add the boba to the syrup: Add the boba to 1 tablespoon of blueberry simple syrup. This should be just enough syrup to coat them and prevent them from sticking together. 
Make the milk tea: Add the chilled green tea, milk and remaining 5 tablespoon of blueberry simple syrup together. Stir until well combined. Add the boba and a handful of ice. Stir, and enjoy!
Notes
Make the boba fresh. Boba doesn't last long once cooked, they need to be eaten fresh. The rest of the tea you can make in advance, but make the boba right before serving.
Stir the boba in syrup right away. If you wait too long before stirring the boba into the syrup, it will clump together and be hard to separate. The syrup will prevent this from happening. 
Adjust the milk & tea ratio. Bubble tea is customizable. Add more or less milk, tea or blueberry syrup to your liking. You can also add in a couple tablespoon of cream for extra creaminess.
Use flavored boba. This is a great recipe to use flavored popping boba if you have some.
Prep Time:

1 hour 10 minutes

Cook Time:

10 minutes

Category:

Bubble Tea

Method:

Stirred

Cuisine:

Taiwanese
Nutrition
Serving Size:

1 milk tea

Calories:

248

Sugar:

35.5g

Sodium:

65mg

Fat:

2.4g

Saturated Fat:

1.5g

Unsaturated Fat:

0.8g

Trans Fat:

0g

Carbohydrates:

53g

Fiber:

1.1g

Protein:

4.8g

Cholesterol:

10mg
Keywords: blueberry, bubble tea, boba, milk tea